Leicester
5-1
Doncaster Rovers
(HT 1-1)
Gallagher 45 pen
Wellens 61
Naughton 68
Vassell 74
Waghorn 90+3
Sharp 7
---
If we could only defend better... Doncaster's opener was more down to poor defending on behalf of the Foxes than it was to Doncaster's positive start to the game. Cunningham was well beaten and Miguel Vitor stepped back to allow Billy Sharp the time and space he needed to finish on the volley. Perhaps Vitor's error here was down to his lack of match fitness - he hadn't played for six weeks until today - or is just another example of the Foxes being beaten early on as we fail to start matches well. But enough of the negatives, we won five goals to one for crying out loud...
We are a good, attacking team. If only we could get out of the blocks faster and defend better we would never be in the position where a defeat is threatened. We were a class above Doncaster in the second half, a truly astonishing fact considering the dire performance of the opening twenty minutes. If we carry on like we did after four o'clock, the only way is up.
Swings and roundabouts. The referee gifted to us a penalty that most believe was never a foul. On another day, it would have most likely been given against us. Today, for whatever reason, the luck went in our favour and we put in a fabulous second half showing to seal an outstanding victory.
We nearly scored from a corner. But Andy King hit the bar. Next time, maybe.
---
Winners
Yuki Abe
The Japanese midfielder had a strong game today, as he continues to become accustomed to English football. Abe tracked-back as well as progressing forward, showing at times some impressive turns of pace that saw the Foxes able to build on movements that seemed to be fizzling-out. Another sound game - and he waved.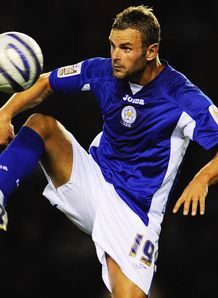 Wellens: Put the Foxes ahead
Paul Gallagher
A player who seems to dip in and out of form, at the moment Gallagher is exactly where Leicester need him - playing skilful football and mucking-in to aid his team mates. At least twice in the first twenty minutes the ex-Blackburn man saved Greg Cunningham from embarrassment on the left wing, as he showed maturity that is needed from a senior member of the squad. And he scored the penalty that put us back in the game.
Richie Wellens
Capped-off another good display at the heart of the Foxes midfield with a stonking goal against his former club. A fine performance from a player in form.
Kyle Naughton
Finished-off a tremendous second half display from Leicester when he scored a textbook counter-attacking goal. His contributions to the change in Leicester's attitude will not have gone unnoticed by Sven Goran Eriksson as he looks to who he might sign on a permanent basis in January.
Pick your spot: Vassell lines-up to score Leicester's fourth.
Darius Vassell
Finally found his first goal in English football for three years after moving into the centre of the park gave him more freedom to run at the Doncaster defence. In the words of our favourite Swede, "the old, good Darius Vassell is back".
Martyn Waghorn
Answered the critics who have suggested he might make a loan move out of Leicester in January with a goal to cap a wonderful day for Leicester City Football Club.
The Club's Owners
Top and co. should be highly commended for their efforts in fixing prices for today's game at a tenner a pop. Having over 27,000 fans in the ground in bound to reflect on a team's success and sense of pride, as well as allowing the widest spectrum of supporters to attend. That said, the stadium atmosphere was not as good as it should have been today, but that should not detract from the so-far, so-good efforts of Top and his team of fellow investors.
---
Losers
Andy King
He didn't score?! He hit the post?! Shocking, really, that the man who is on fire this season was seemingly the only man on the pitch not to score.

Doncaster Rovers
To utterly capitulate in the way Doncaster did this afternoon is not a good sign. They took the early advantage to go ahead and only a rather dodgy refereeing decision saw them pegged-back at half time. For them to approach the second half in a way that left them so exposed was poor tactically, but the fact that for once we made a team pay wa beautiful to